5 Fun & Colorful Thanksgiving Arts & Crafts for Kids
You may have your Thanksgiving menu planned and all the food gathered, but how are you supposed to keep the kids busy while you're sweating in the kitchen? Letting them assist in decorating the Thanksgiving table can be both fulfilling and fun, and it'll check one additional item off your to-do list—plus, you'll get some time to rest the eyes in the back of your head.
Check out these five bright and engaging Thanksgiving projects for kids, and enjoy the day!
Cork Mayflower Ship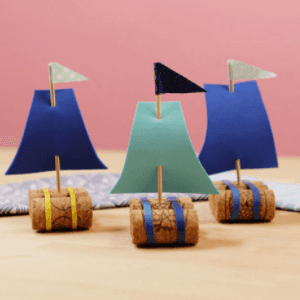 Photo: goodhousekeeping.com
A Mercedes-Benz may be the preferred mode of travel today, but pilgrims in the 17th century didn't have such luxury when landing at Plymouth Rock. Here's to those settlers!
Supplies:
Pencil
Wine corks (you know you've got 'em)
Rubber bands
Toothpicks
Scissors
Construction paper or craft foam sheets
Instructions:
Draw a sail outline on the paper or foam sheet. Cut.
Skewer the top and bottom of the sail with a toothpick.
Wrap the top of the skewer (top of sail) with a smidge of washi tape. Cut into a triangle to form a flag.
Attach 3 corks together with rubber bands (2).
Poke the sail into the cork base, and off ye go.
To view these cork-made ships in action, watch this cute video care of Good Housekeeping.
Pumpkin Seed Tree
If you've got Halloween pumpkin seeds left over or freshly scooped innards after making that delicious pumpkin pie, this Thanksgiving activity is simple to prep for and is perfect for kids of all ages.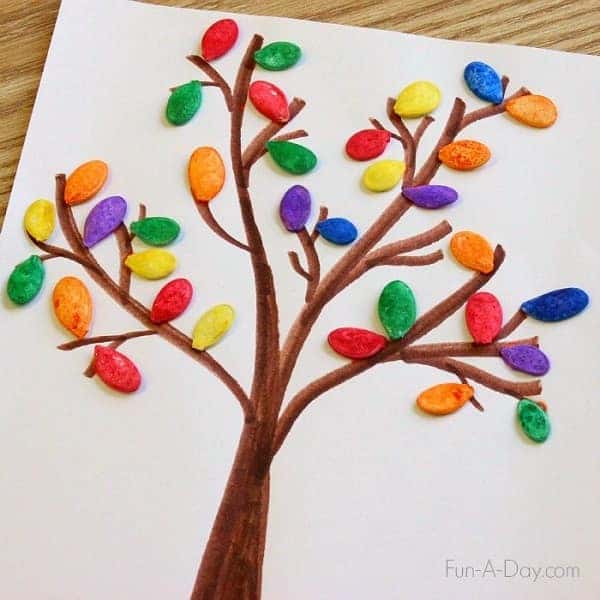 Photo: fun-a-day.com
Supplies:
Pumpkin seeds (dried)
Construction paper
Markers
Glue
Jars or old Tupperware
Plastic sandwich baggies
Paper towels or old towels
Instructions:
Place a handful or two of seeds in a baggie and squeeze a few squirts of paint in. Squeeze, shake, twist and turn those suckers until the colors are bright and pleasing to the eye.
Spread painted seeds over paper towels or old towels to dry thoroughly, preferably overnight. Store in jars, Tupperware, or whatever container you choose.
Let the kids draw their trees and glue those colorful pumpkin seed-leaves.
For more instructions and details, visit fun-a-day.com.
DIY Thanksgiving Kids' Table Placemats
If you plan on having a kids' table for Thanksgiving, give it a splash of childlike pizzazz with these fun and creative placemats. You can make them ahead of time or let the kids set the traced-out table while you cook.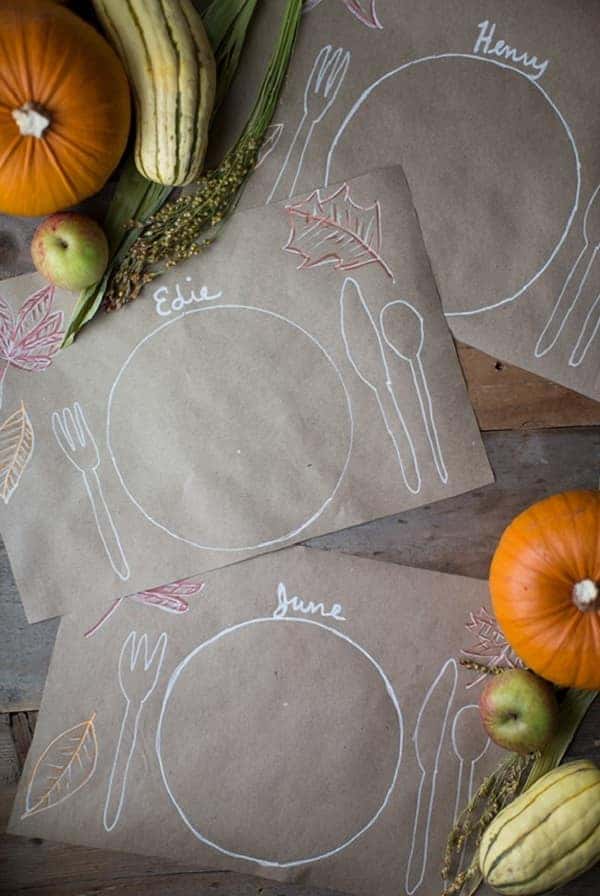 Photo: sayyes.com
Supplies:
Kraft paper, cut 20" x 14"
White chalkboard marker or Sharpie
Paper plates and plastic utensils
Markers
Instructions:
Trace the plates and utensils with the white chalkboard marker or Sharpie.
Personalize each placemat with the child's name and some festive Thanksgiving leaves, acorns, and ornamental designs.
Let the kids color or draw food on the empty plate; that should feed their creative hunger.
For more elaborate details on this Thanksgiving craft project, visit sayyes.com.
Turkey Napkin Holders
Want to add a cheap and novel touch of holiday charm to your place settings? Try these Thanksgiving napkin holders on for size. They look charming on the plate and are fun to create.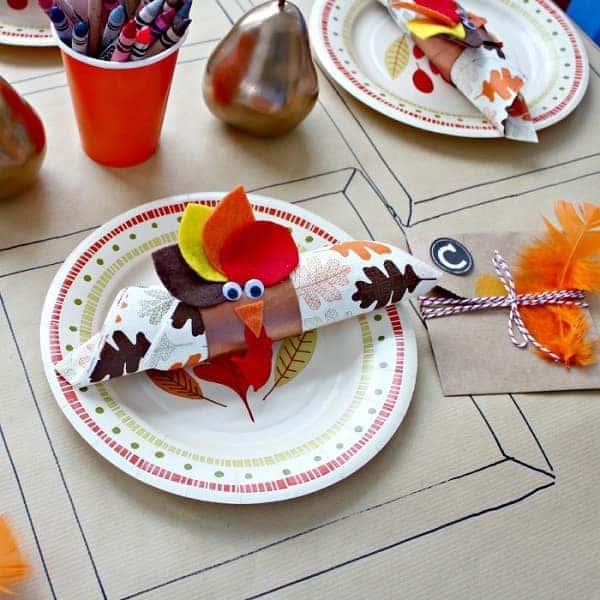 Photo: viewfromfridge.com
Supplies:
Paper towel rolls, cut into 3 equal-sized tubes
Felt (autumn colors)
Old cardboard
Googly eyes
Hot glue
Scissors
Non-poisonous paint (optional)
Pencil
Instructions:
Paint each napkin holder tube and let dry overnight (optional).
Outline feathers and triangle beaks on cardboard. Cut to use as tracing material.
Trace feathers and beaks on felt (orange felt for beaks). Cut.
Draw wattles (yes, that's the dangling thing on a turkey's neck) on red felt. Cut.
Hot glue feathers onto the roll. Overlap feathers with googly eyes. Then glue the beak and wattle, beak on top.
Get more Thanksgiving table crafts and projects at viewfromthefridge.com.
Colorful Pumpkin Centerpiece
Treat your guests to an imaginative Thanksgiving table centerpiece this year. You'd be surprised at what a touch of color can do to liven even the most awkward of family gatherings.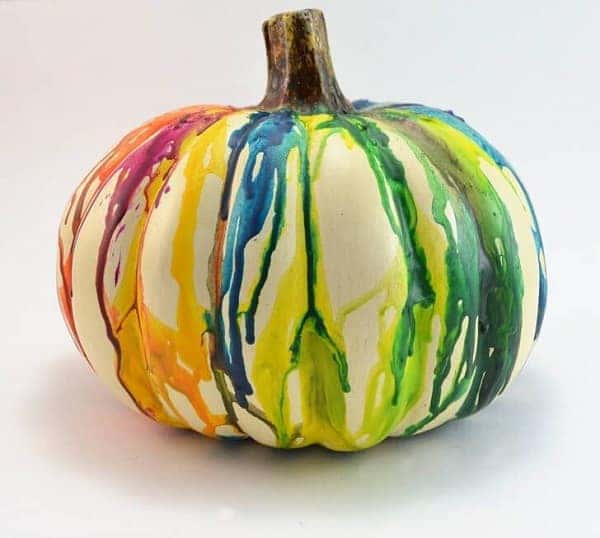 Photo: momspark.net
Supplies:
Colorful crayons
Blow dryer
Faux white pumpkin
Newspapers or drop cloth
Instructions:
Choose the crayons and peel the paper off each.
Add a tiny dab of glue to the crayons and attach them to the top of the pumpkin, near the stem.
Place the pumpkin on a drop cloth or newspapers to protect the craft area.
Melt the crayons slowly with the blow dryer. Try different angles for unique drop designs.
Let dry, then repeat if necessary to add more colors.
Get more insight into this cool Thanksgiving kids' craft at momspark.net.
Adults: Be Thankful at Mercedes-Benz of Lynchburg
Now that the kids have had their Thanksgiving excitement, it's your turn. If you live in the area of Madison Heights or Bedford, VA, take a cue from the creative arts and crafts above, and stop by our Lynchburg Mercedes dealer to test drive any of our all-new Mercedes-Benz cars or SUVs. It'll be the picture-perfect conclusion to your Thanksgiving.
Contact us at 434-385-6226 or visit our top-rated Lynchburg car dealership at 2643 Lakeside Drive. Happy holidays!
Sources & Photos:
https://fun-a-day.com/colorful-pumpkin-seed-fall-art/
https://www.amazon.com/gp/product/B005V9W9RM/
http://sayyes.com/2015/10/the-thanksgiving-kids-table.html
http://www.goodhousekeeping.com/home/craft-ideas/a42439/diy-wine-cork-sailboats/
http://www.michaels.com/papercraft/washi-tape/871138037
https://www.amazon.com/Darice-106-118-40-Pack-Sheets-Assorted/dp/B004LOHW6G/
http://viewfromthefridge.com/simple-thanksgiving-ideas-food-table-settings/
http://momspark.net/melted-crayon-pumpkin/
https://www.amazon.com/Aleenes-Clear-Gel-Tacky-Glue/dp/B000BY6THS/