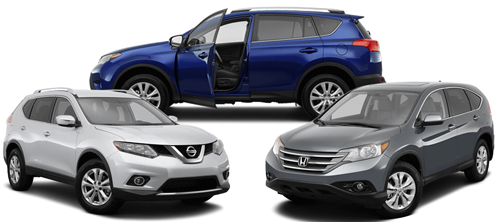 Pre-Owned SUVs for Sale in Lynchburg, VA
It's easy to see why sport utility vehicles are so incredibly popular in the U.S. today. They offer unrivaled adaptability, vigilant safety systems, dynamic performance, and generous interior space all in one, and they are well-suited to virtually any situation drivers might find themselves in. This built-in versatility has made SUVs the go-to segment across the country, and the market is brimming with models that offer contemporary technology and impressive capabilities.
No matter what your needs may be, there's bound to be an SUV to meet them. However, when it's time to find the right model for you, the search can grow daunting. That's why we hope you'll skip the drive from lot to lot and visit us first at Mercedes-Benz of Lynchburg. Whether you're on the hunt for a spacious family vehicle, a capable adventurer, or a comfortable everyday commuter, we're sure that you'll be pleased with the pre-owned SUV lineup at our dealership.
When you visit us at Mercedes-Benz of Lynchburg, you can browse a diverse inventory of luxury pre-owned SUVs by Mercedes-Benz and a variety of other high-quality manufacturers. Our lot is home to premium SUVs and certified pre-owned models stocked with modern amenities and intelligent driver assistance features.
Lynchburg, VA Pre-Owned Dealership
Whether you intend to cruise around Lynchburg or take to the open highways of Virginia and beyond, you'll enjoy all the comfort, convenience, power, and style you need within our collection. Our pre-owned SUVs promise the reliability and quality that drivers demand from high-end makers, and you can expect impressive efficiency, engaging performance, and stunning design whenever you get behind the wheel for a test drive. As you explore your options online, you can use our filters to refine your search by make, model body type, and other criteria.
Our luxury SUVs are in high demand, so they don't stay at our dealership for very long. If you see something to want, don't hesitate to act today. Because our inventory changes often, the SUVs listed now may be different the next time you look, so remember to check back again later to see what else has just come in.
Your Next SUV is Waiting at Mercedes-Benz of Lynchburg
At Mercedes-Benz of Lynchburg, we want to meet all your automotive needs with the extraordinary quality that luxury names are known for. Whenever you visit us here in Lynchburg, you'll enjoy dedicated customer service, insightful expertise on all our models, and convenient financing for the vehicle you want. Whenever it's time for maintenance on your vehicle, you can trust the professionals in our service department to handle it with care in a timely manner.