Virginia Compact Luxury Buyers Love C-Class
A compact luxury vehicle like the C-Class offers many different benefits for owners and drivers. When you factor in that it's a Mercedes-Benz vehicle, the value increases ten-fold. That's because there are a wide variety of C-Class models to choose from with amazing engine options and premium features.
You can take your pick from coupe, sedan, and wagon version of the C-Class. The common features amongst them all? The highest caliber craftsmanship, technology features, and interior amenities. The C-Class delivers it all in a stylish package with a powertrain that provides a dynamic driving experience on the roads around Roanoke and Lynchburg, VA.
What makes the C-Class the best choice for compact luxury vehicles on the market?
It all starts with the Mercedes-Benz name. For decades, the automaker has been the premier manufacturer of luxury vehicles on the global market. The Mercedes-Benz name means you're getting the best automobile from a styling, engineering, and vehicle dynamics standpoint.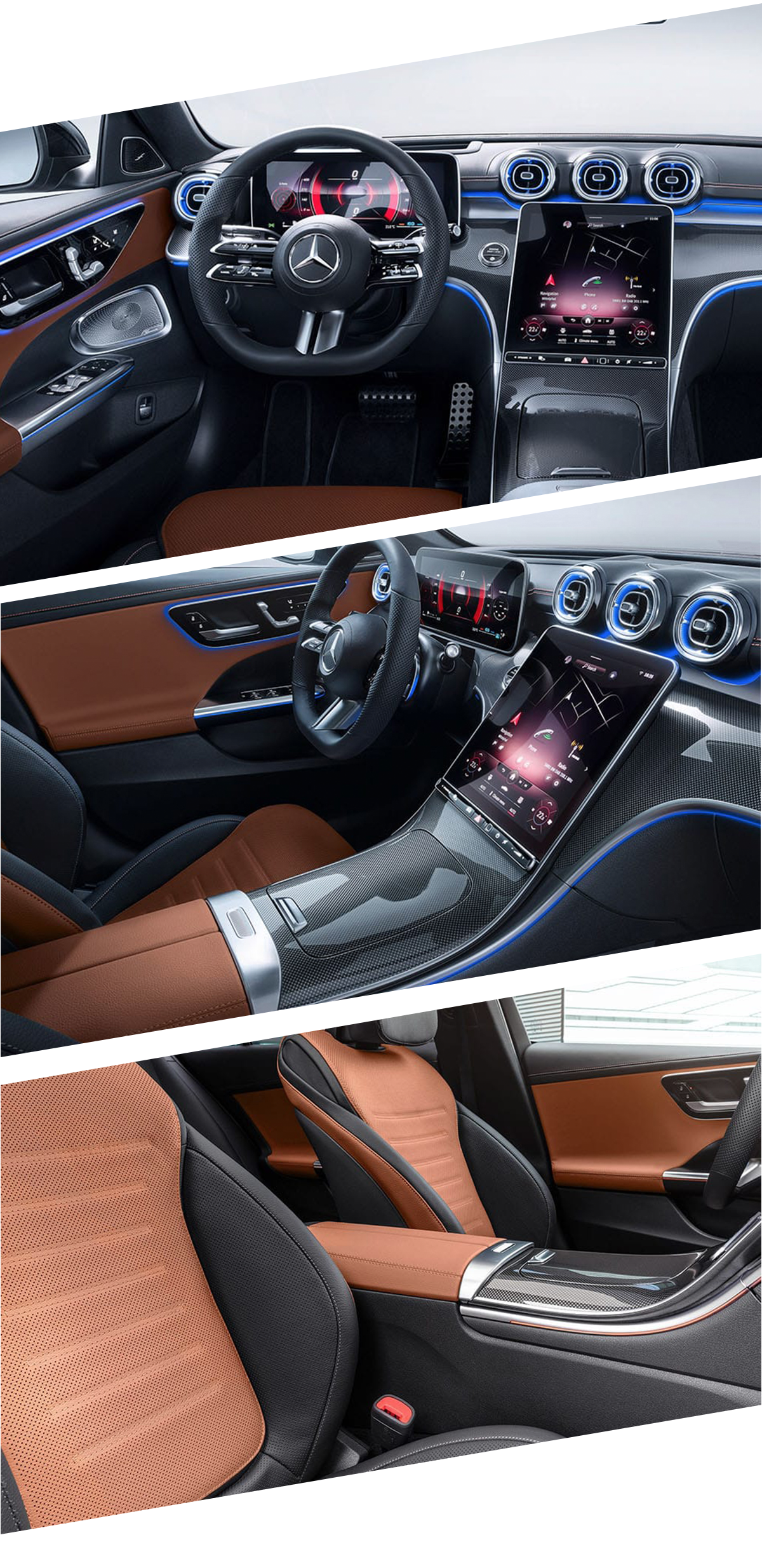 What's New in the 2022 Mercedes-Benz C-Class?
The Mercedes-Benz C-Class was formerly the entry-level Mercedes-Benz sedan. However, the fifth generation that debuted in 2022 pushes the Mercedes-Benz C-Class to new heights with updated technology features and drivetrain setup. It is no longer the entry-level model. It boasts a hybrid motor to assist the engine, which adds both horsepower and efficiency. There is also a massive new touchscreen with Mercedes-Benz patented MBUX operating system. It lets you stream audio or navigation from your smartphone. A new feature is power-adjusted seating with a fingerprint scanner to recognize who is driving. The fingerprint scanner will also tell the infotainment system which phone to connect.
Why is Berglund Luxury Auto the best place to get your C-Class?
That's easy to answer. Outstanding selection, service, and savings. Our Virginia Mercedes-Benz dealership carries the complete line of Mercedes-Benz models. We've got everything from new C-Class sedans to C-Class coupes and C-Class Hybrid vehicles.
Every month, our managers help generate purchase and lease specials to help you get the Mercedes-Benz model you want at a great value. We post these specials online, but often have special offers that have just been released that may not be posted online yet.
That's why it's always a good idea to check with us about the latest and greatest offers when you find the new Mercedes-Benz you want. Feel free to contact us online, over the phone at 434-219-5918, or in person at 2643 Lakeside Drive, Lynchburg, VA 24501.
Looking into the Past of the Mercedes-Benz C-Class
C-Class vehicles were introduced into the Mercedes-Benz lineup in 1993. The compact vehicles were actually the smallest models in the automaker's portfolio upon launch, though that would later change with the introduction of the A-Class.
In 1998, Mercedes-Benz released the C-Class C280, which featured new V-engine type technology. Three years later, the factory released all-new C-Class offerings with new engine configurations, interior features, and safety equipment.
In 2002, the automaker expanded the C-Class lineup with new coupe and wagon variants. This year also marked the debut of the 4MATIC all-wheel drive system that would be a Mercedes-Benz mainstay moving forward.
The automaker released new generations of C-Class vehicles in the following years and consistently improved technology, engineering, and safety features with each successive generation.
Why Berglund Luxury Auto?
We invite you to shop our entire inventory of new Mercedes-Benz models, certified units, and other make/model used vehicles on our website. You're bound to find what you're looking for, but if you don't - feel free to get in touch with us.
We can help locate the exact model you want and arrange to have it transported to our Virginia auto dealership. It's just another way that we go the extra mile to make the shopping experience as easy and pleasurable as possible at Berglund Luxury Auto located at 2643 Lakeside Drive, Lynchburg, VA 24501.