Mercedes-Benz E-Class offers First Class Accommodations
Looking for the ultimate luxury vehicle in a wide variety of body styles? If so, then look no further than the E-Class lineup of luxury models. Mercedes currently makes the E-Class available in four separate configurations: sedan, coupe, convertible and wagon.
Each boasts premium interior features and powerful, efficient engine options. This shouldn't come as any surprise to those familiar with the Mercedes-Benz brand. The automaker has built a reputation over the years for providing a premium interior experience along with excellent driving dynamics.
Technology is and will continue to be a hot button for today's new cars, and the E-Class continues to add impressive features in this arena year after year. This includes the latest in driver assistance technology, as well. It's not a stretch to say that the E-Class offers some of the most tech of any vehicle in the manufacturer's lineup.
No matter which E-Class model you are interested in, there's one place to shop if you live in the Lynchburg, Danville, or the Roanoke, VA area. That place is Berglund Luxury Auto. You'll find the full line of Mercedes-Benz models all with incredible purchase and lease specials every day.
We are one of the premier luxury automotive dealerships in the state of Virginia for a variety of reasons. For starters, our customer service is second to none. All of our associates at Berglund Luxury Auto are committed to providing an outstanding shopping process from start to finish.
You'll also appreciate the variety of ways in which we make Mercedes-Benz luxury affordable. We invite you to shop all our new and pre-owned inventory online, and then come visit us in person for a test drive.
We're conveniently located at 2643 Lakeside Drive, Lynchburg, VA 24501.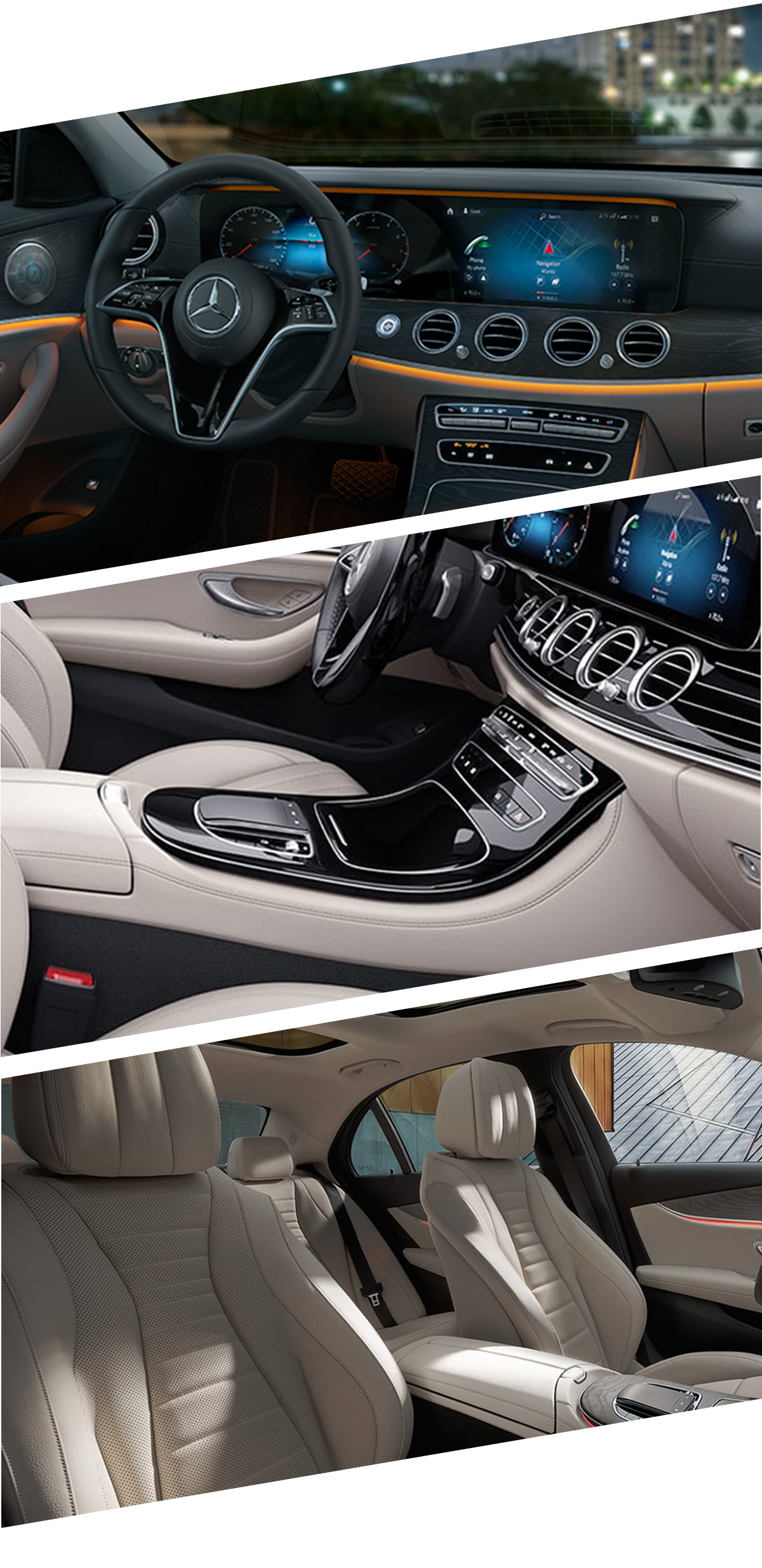 What's New in the 2022 Mercedes-Benz E-Class
The 2022 Mercedes-Benz E-Class is part of the fifth-generation E-Class lineup that debuted in 2017. Since its debut, this generation of E-Class cars has received rave reviews from critics and safety experts. The 2022 model brings standard automatic high-beam headlights and new colors. In recent years, the MBUX operating system replaced the COMAND operating system. The hybrid assist for the E450 models also came in recent years. Also, the E300 became the E350 several years ago when it received a notable bump in power. All this is to say, the 2022 Mercedes-Benz E-Class brings new features, as each year of the E-Class does. It is worth checking out the latest E-Class model if you want a new sedan, coupe, or convertible.
A Brief History of the Mercedes-Benz E-Class
The E-Class became a designated set of vehicles in the Mercedes-Benz lineup in 1993. The first major upgrade in the lineup occurred in 1998 when the factory released a new wagon variant into the market. Mercedes-Benz made the decision to release the ultra-premium AMG trim of the E-Class in 2001.
In the following years, the automaker would continue to enhance the interior of the E-Class with premium technology and safety features. In 2007, exterior styling changes were made to E-Class vehicles along with trim level modifications.
A convertible version of the E-Class was introduced to the market in 2011. Two years later in 2013, a hybrid version (E400) was integrated into the lineup. The E-Class continues to be one of the most popular vehicles in the Mercedes-Benz lineup primarily due to the extensive availability of body styles and premium luxury options.
Why Get Your E-Class at Berglund Luxury Auto?
Looking for a great value on a Mercedes-Benz E-Class? If so, look no further than Berglund Luxury Auto. We make luxury affordable with a wide variety of purchase and lease options on all our new vehicles like the E-Class. Mercedes-Benz automobiles are exquisitely crafted machines and our Lynchburg, VA dealership is proud to carry the complete line from the automaker.
If you haven't experienced what it's like to drive a Mercedes-Benz, now is the perfect time to do so. Just contact us online or stop by our dealership located at 2643 Lakeside Drive, Lynchburg, VA 24501.
If you're in the market for a premium pre-owned vehicle, we can help with that as well. Just check out our inventory of used cars and let us know which one you might be interested in.
From new Mercedes-Benz models to quality pre-owned units, Berglund Luxury Auto is your one-stop shop for all your luxury automotive sales and service needs.